My coworkers and I ate, and ate, and ate, picking away at the mausoleum as if it didn't contain the pickled, preserved remains of the beloved former leader of the country we currently were calling home.
Sugar highs ensued, and as the Vietnamese staff laughed and praised our creation, any doubts my friend and I had about possibly offending the locals quickly melted away.
It hadn't felt much like Christmas. December in Hanoi is grey and damp for the most part, and chilly but never cold enough to be snowy. Celebrating Christmas is a growing trend in Vietnam, but not as I know it. For me, it's about spending time at home with people I love, and eating a lot of good food. The Vietnamese spend Christmas Eve riding around honking the horns on their motorbikes, seeing and being seen.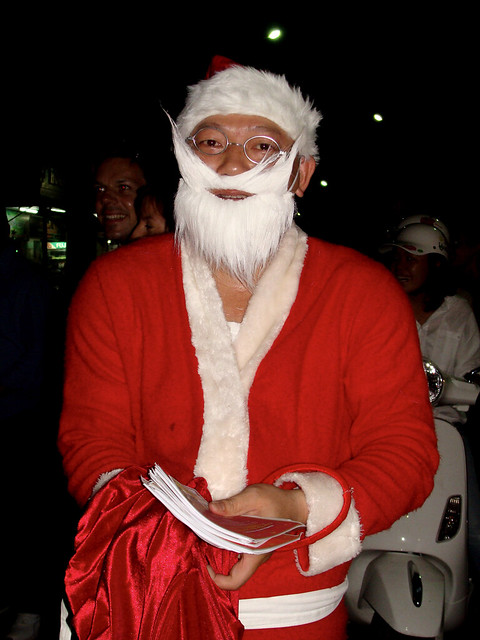 We'd had a Secret Santa at work, where I baked four kinds of cookies because I knew the person whose name I got would like that better than anything I could buy him. That helped to get me in the spirit. And then Jacqui and I came up with the Gingerbread Mega Project: the mausoleum.
Why, you ask, would anyone want to make a gingerbread mausoleum? Well, you may have heard of Hồ Chí Minh , the iconic former North Vietnamese leader and revolutionary, known in Hanoi simply as "Uncle Hồ". Uncle Hồ was known for leading a very simple life and living as just one of the people, and in his will he asked that he be cremated and have his ashes scattered in the mountains. Instead, poor Uncle Hồ's body has been preserved and a mausoleum was built to house it, where anyone and everyone can parade by to see him and pay their respects.
When it came time for Jacqui and I to plan our gingerbread house, we decided that a typical house wouldn't do, and we wanted to do something specifically Vietnamese. What could be better than Uncle Ho's mausoleum? While it's not technically a house, in a way Hồ Chí Minh still "lives" there, so why not?
We planned for weeks; made elaborate drawings, measurements, and blueprints, researched and discussed ideas and recipes, and shopped for ingredients and the necessary accessories for hours. I rushed home from a cooking class to mix up the dough so it would have ample time to chill, and on the big day Jacqui had to make a speedy recovery from food poisoning in order to come help!
It was a long and difficult day, leaving us both completely exhausted. We measured, cut and baked the dough according to the specific blueprints we'd made, and then cut again. We glued pieces together, holding them at length until the icing dried enough to make it stand. We chopped and carved at gummy shapes until they became guards, trees, and the reins for Santa's sleigh.
But it was all worth it. This is probably the best, most unique and creative thing I have ever made. It looked just like the real thing, but in miniature and completely, totally edible.
We think it's probably the first gingerbread mausoleum ever made. Doesn't it look just like the real one?
Have you ever made an outrageous gingerbread house? Tell me about it in the comments! And Merry Christmas! 
Did you enjoy this post? Please pin it!