I sighed as once more I yanked my shoes off before making my way slowly into the water. Stepping gingerly, I carefully made my way to the other side of the river, trying not to let the current knock me over as I sought out soft spots to put my tender feet between the rocks.
I emerged from the water onto the muddy bank and jammed my feet into my shoes. I'd given up on socks three crossings ago and there was no point in bothering to lace my shoes up tight. Just ahead I could see the trail descending to the river again.
This was the end of the Balcon de Iberia hike in Parque Nacional Alejandro de Humboldt, Cuba's most important protected area. It's also a UNESCO world heritage site due to its extremely high number of endemic species and incredible biodiversity.
The hike had begun this way too, with a river crossing as soon as we'd stepped off the bumpy two-hour bus ride to get there from Baracoa. In fact the bus itself had also just crossed a river. Such is life in the rainiest and most humid part of Cuba.
But eight crossings in I was tired of it. I'd worn my hiking shoes, thinking they would be the easiest for potentially slippery slopes (and some were – one girl fell on her butt) or rocky surfaces. But a few forward-thinking individuals had brought sports sandals or flip flops as well. Once the river crossings began they were able to both wade across the rocky river bottom and traverse the gravelly path in comfort and ease. I wish I'd been told there would be multiple river crossings.
It had been a good day, with a knowledgeable guide called Yohani. He showed us star-shaped fruit that bats like, cacao pods, and breadfruit, as well as plants known for their medicinal properties.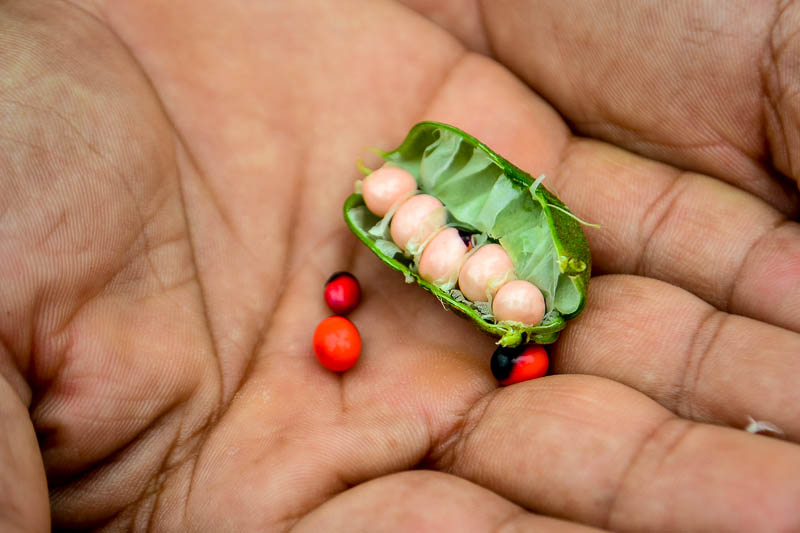 He'd even tried to find us the Northern Hemisphere's smallest frog, but the little guy was good at hiding (easy when you're that small!) so we had to be shown one that a local villager had trapped in a bowl instead. At just 1cm long, it was indeed the tiniest frog I'd ever seen.
Another member of our group, also looking for the frog, found a very large and creepy centipede instead.
While the guide was looking for the frog we admired the spiky trees around us, reminding ourselves to be careful not to grab one as we went sliding down the slippery paths.
The Balcon de Iberia path is a 7km loop, first going up a rather steep hill. In normal conditions it wouldn't be too difficult, but in this humidity it had us all reaching for water and dripping in sweat almost immediately. We took it slowly, stopping numerous times along the way so our guide could explain one plant or another, but really just to give us a chance to recover.
A small stand at the top of the hill offered us refreshment and we bought young coconuts and chocolate/coconut candy to sustain us through the sweaty hike.
From here we traipsed along a ridge, stopping occasionally for views across forested hills as far as we could see. Yellowish palm trees dotted some of the slopes of the park. The occasional waterfall trickled down the far slopes, ribbons of white slicing through the green.
The descent back to river level was tricky, the path slick enough in places to make us step on the vegetation to the side for traction. And still, a couple of people fell (not me, for once!)
We'd been promised a swim, but by the time we arrived at the swimming hole, we only had 20 minutes to spend there. Most of us were starving after an early breakfast, so lunch took priority and we remained sweaty.
Then the multiple river crossings began, and while annoying, at least they were refreshing on our hot feet. I was still glad to see the end of them and of the track, relieved that I hadn't fallen in with my camera around my neck.
I can appreciate the importance of Parque Alejandro de Humboldt. A forest with such ecological diversity certainly needs preserving and researching, and it really is a beautiful natural area.
I enjoyed being out of the city and in nature, but I guess I expected to see more wildlife, more birds, more spectacular views, and more waterfalls.
We finished the day at Playa Maguana, a lovely beach just East of the park. Dropping our stuff on the beach in the rain, we replaced sweat for salty sea, tracking a ton of sand back into the bus for the bumpy ride back to town.
I booked this trip with Gaviota Tours in the Hotel La Habanera, right on Plaza Independencia. It cost 24 CUC, including transportation, guide, and park entrance. Lunch was not included so I advise getting your casa to pack something for you. Be sure to take plenty of water, good walking shoes, and water footwear for the river crossings!
Did you enjoy this post? Please pin it!