Imagine hiding out in a forest in the mountains. There's no electricity, no running water aside from a small creek and the frequent rain. Your food supply is unpredictable; it's dependent on a few supportive locals and whatever you can forage from the forest. To get home, or in between your buildings, the path is overgrown with thick vegetation, the ground underfoot rocky and muddy.  It's damp and chilly at times, and your hut is made only of thin slabs of wood and a thatched roof.
Imagine also that surrounding your mountain hideaway are legions of soldiers, sent by your country's military to find and 'eliminate' you. Your army is only a fraction the size of theirs; capture means certain torture and execution.
You live in a constant state of fear and caution, immediately alerted to the slightest sound from outside of your camp and speaking only in whispers lest you give yourself away to your enemies.
And you're doing this for more than a year.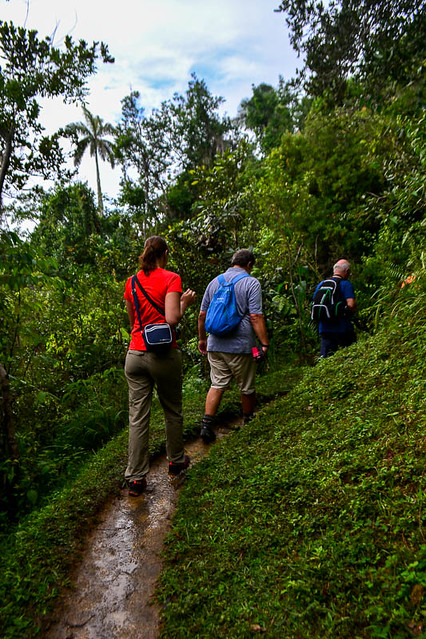 But you are Fidel Castro, or Che Guevara, or Camilo Cienfuegos, or one of the 300 or so other less-known souls in the 26th of July movement, who believe that revolution is the only way to rid your country of the dictator Batista. You are willing to fight for your cause until your death.
What these men and women went through in the name of the Cuban revolution is remarkable, their courage, determination, and resilience impressive. So a trek to their command post at Comandancia de la Plata was, to me, an essential part of understanding what was going on in Cuba back in the 1950s.
Comandancia de la Plata is deep in the Sierra Maestra, the country's highest mountain range and home to its highest peak, Pico Turquino. Back in 1958 the jungle was impenetrable and the command post well hidden by vegetation. The government soldiers never found it.
These days it's a little easier, although public transportation is still not really an option. I went to Comandancia de la Plata from Bayamo, sharing a taxi with a couple I'd met on the bus.
We first drove for an hour, down lonely roads lined with revolutionary signs, past fields and horse carts and people on bicycles, with only the occasional other car around. Finally the road started to climb into the mountains, and our little taxi's engine strained on the steep hills. I wondered at times if we were going to make it, but we did finally arrive in the hamlet of Santo Domingo at the gates to Parque Nacional Turquino.
Here is where we paid the entrance fee and presented our passports. I'm not sure why they needed out passports, but this is Cuba so why wouldn't they need to add some bureaucracy to the process?
A 4WD showed up, and we climbed in. A few others were all inside, and a guide joined us. We started the steep ascent up to Alto del Naranjo, from where would will begin the hike to Comandancia de la Plata.
And steep it is. This road gains 750m in elevation over just 5km. I just hoped the vehicle I was in had both a good engine and good brakes (on the way back down more so, obviously!)
We gathered at the parking area at the top, all of us from my car as well as another, for about 12 people in total.
We began the trek to Comandancia de la Plata and while it was not difficult, we moved slowly and I soon realized why the sign said the entire trek would take four hours for the 6km return trip. Not only were a few members of our group slightly less able than the rest of us, but it was wet, having rained a lot in the past few days. The trail was quite muddy and slippery, and going slowly was the only safe way. I began to realize what kind of conditions the revolutionaries had dealt with on a daily basis, and this trail was not even overgrown like it would've been back then.
After an hour or so we reached Casa Medina, a small settlement where a campesino's family lives. This farmer had been one of the key supporters of the revolutionaries at Comandancia de la Plata, supplying them with food and acting as a link to the outside world. We stopped here for a short rest and to admire the view.
Another thirty minutes down the track we reached the edge of Comandancia de la Plata. This was a small thatched shack, which I thought our guide said was used as a hospital, but perhaps I misunderstood because I found out later that the hospital was actually down a side track from here. I think this shack was actually just a guard post.
Continuing up the hill, we arrived at an open grassy area, now used as a helipad for visiting dignitaries. No trekking through the mud for the VIPs! Of course this is a recent concession to tourism; back in the 1950s this area was still covered in vegetation.
On the edge of this area was a small museum, which was closed on my visit (and apparently is only open sporadically), and a grave of one of the revolutionaries who'd died for the cause.
We continued on, seeing the very basic kitchen building as well as a partially restored building where the revolutionary newspaper Granma was produced. Granma is still printed today; people on the streets of Havana tried to force it into my hands on several occasions, ignoring my protests that my Spanish wasn't anywhere near good enough to actually understand it.
But the real prize at la Comandancia de la Plata is the Casa de Fidel. Yes, we saw Fidel's house, complete with its seven escape routes including a trap door. He was prepared for the worst, as he should have been with Batista's soldiers on a mission entitled Plan FF (Fin de Fidel – End of Fidel).
We saw the bed he slept in (although, I've read that it was a simple camp bed, and this certainly was not…), the kerosene-powered fridge used for medicine and food, and the benches outside where strategic meetings were held.
From here we headed back the same way we'd come, and when I realized we were finished touring the site I asked about the hospital. 'Under restoration', the guide said, and that it was another 500 metres in a different direction, so we couldn't go. I do wonder if we'd been a faster moving group if we'd have been able to check it out.
I didn't even realize at the time that we also didn't see the Radio Rebelde buildings, from where the rebels used to broadcast to the people of Cuba. Like Granma, Radio Rebelde still exists, and you can listen to it throughout the island of Cuba as well as online here (although I couldn't seem to get it to work).
I'm glad I went to see this piece of Cuban history, but I was disappointed by some aspects of my trip to Comandancia de la Plata. Sure, the site and the significance of it is fascinating, but I would've liked to see the real hospital, as well as the Radio Rebelde buildings and inside the museum.
And I just don't like travelling in a big group of people. It just meant I had to lag behind to get photos without random strangers in them, but then I'd miss the information at the next stop, especially with the guide trying to communicate in both English and Spanish.
I kind of feel like I only got half the experience I should have had.
But it was still a great day out in the countryside, which I hadn't really had up to this point in my Cuba trip. The air was fresh and cool, the people friendly, and the mountains were beautiful. And Castro's mountain hideaway? Well, no matter what I didn't see, it's still an incredibly well preserved piece of Cuban history that I was lucky to have a chance to visit.
Comandancia de la Plata Quick Guide
Cost:
27 CUC for entrance, guide, and 4WD to the start of the track, optional 5 CUC camera fee
Get there:
Take your own rental car or hire a taxi (40 CUC) from Bayamo.
Hunt around Santiago for a tour (although that's a VERY long day).
The girl in the Ecotur office in Bayamo told me I might be able to get a camione to Bartolomé Masó and then hitchhike the last 20km. Based on my experience going to La Gran Piedra, I'm glad I didn't bother trying this.
Stay:
Villa Santo Domingo looked lovely and peaceful, and is right near the entrance to the park on the edge of the river. I would've liked to stick around here for a day or two.
Eat:
Villa Santo Domingo has a restaurant. I'm not sure if there's anywhere else!
Tips:
Bring your passport, good shoes, raincoat, mosquito repellent, sunscreen, water, and a lunch.
Start early, as the park gates close to new visitors at 10am!
The trails here can be closed if there has been a lot of rain, so it's a good idea to check if the park is open before setting off. Ask your casa mama to call and check for you.
Have you done the hike to Comandancia de la Plata? What did you think? Were you able to visit all the buildings? Would you recommend it to others?
Enjoy this post? Please pin it!