'Don't go on a houseboat,' she said. As a solo female it would simply not be safe to put myself alone on a boat with three male crew members.
'Don't go on a houseboat,' they said. The houseboats are too big to go down any of the smaller, narrow canals that wind between villages. On a houseboat I'd miss out on the most interesting views.
'Don't go on a houseboat,' George said. It's way too expensive and you can easily see the backwaters for a fraction of the price.
So I skipped the one thing you're 'supposed' to do in the Kerala backwaters, and I didn't go on a houseboat. Instead, I went to stay with George and his family. And so should you.
George runs a homestay in a small village outside Kottayam in the Kerala backwaters. It's in a lovely peaceful spot where you can sit out in front of your room and gaze at a huge expanse of rice fields surrounded by trees. Aquatic birds come and wade through the mud looking for tasty critters, and kingfishers and bee-eaters sit on the power lines above, swooping down every so often for an easy snack.
George will give you a hand-drawn map of the surrounding area and you can wander endlessly, up and down canals, over bridges, and through palm plantations.
It's populated here, with houses lining the canals, women washing clothes in the murky water, and men paddling their canoes up and down.
You can watch the sun rise and set over the rice paddies, visit the local churches and temples, and chat with the kids who are having a grand old time doing flips and diving into the water.
You can dodge goats and geese as you wander. You can watch the men herding their ducks out to 'pasture' in the morning and back in the evening.
George's wife Dai will cook fabulous meals for you. Kerala specialties are the main focus, using lots of rice and coconut put together in more ways than you can imagine. Many of the ingredients come straight from the property you are sitting on.
George will show you the trees on his property: tamarind, nutmeg, banana, black pepper, mango, jackfruit, and many others are there for you to admire.
George can also arrange a canoe trip for you, paddling almost silently through the narrowest canals at sunset.
And when you're tired of all this and you want to see more of the Kerala Backwaters than just this village, a 30 minute walk takes you to the ferry, where for just 13 rupees you can ride for an hour and a half all the way to Muhamma.
The ferry meanders along the canal, the water reflecting the palm trees like glass. In between rice fields, rusting old machinery, and houseboats it stops in villages to drop off and pick up passengers.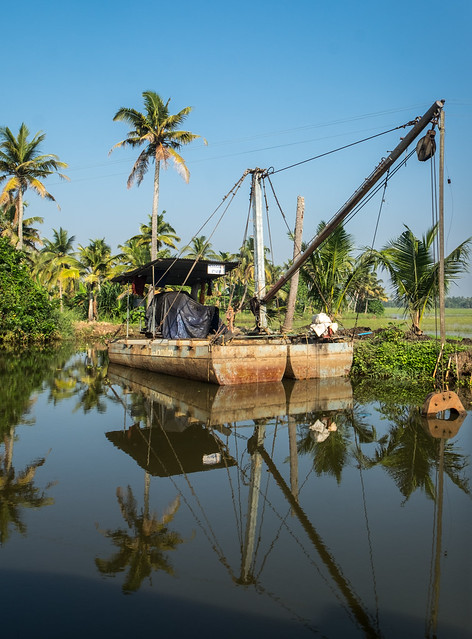 As it leaves the canal system and enters Vembanad Lake, fields of lotus, water lilies and morning glory stretch on for what seems like miles.
At times, my two companions and I were almost the only passengers on the ferry, so while I was pretty happy sticking my head out the window and taking pictures, it was also easy to run over to the other side of the boat and snap a photo.
From the boat jetty at Muhamma you can take an auto-rickshaw to Alleppey, or it's just a short walk up the road to catch a bus.
In Alleppey you can explore, wander the busy streets and over the main canal. We didn't see much, opting instead for a visit to the Krishna Temple outside of town. It was busy, and a free lunch was offered but we were wary of the hygiene and chose instead to head back to town for food.
After lunch and exploration you have two choices to get back to George's homestay: ferry or bus. This ferry cruises down bigger canals than the morning one, also stopping regularly to let passengers on or off. The wide canals are bordered by mostly just rice fields or palm trees, but there are plenty of houseboats to look at.
And perhaps (or at least George says) it was just because it was Christmas Day but this ferry was very crowded. Thankfully, I got a seat but unfortunately, it was in the middle of the boat. Without a window seat I had to amuse myself with the small kids around me instead of taking heaps of photos! Good thing Keralans are friendly.
I'm not going to lie to you: two and a half hours on this boat was a lot. In addition to the crowds, the boat's engine was very loud, kids were squealing, and it got very very hot. I finished my water, and when we finally arrived at the boat jetty in Kottayam I was relieved to see a small restaurant where I could buy a new bottle. If the boat looks really crowded you might want to consider taking the bus back to Kottayam instead.
Either way, a short auto-rickshaw ride takes you back to George's, ready for a cup of tea and some quiet time on the terrace overlooking the rice fields before dinner.
Total cost to see the Kerala backwaters:
GK's Riverview Homestay: 2500 rupees/night for a couple, including breakfast. If you're alone George might give you a deal. There are just four rooms here and it's hard to find on your own so book in advance and George will send an auto-rickshaw to pick you up from the bus station or ferry dock. (200-250 rupees depending on how many people you are).
Expect to pay extra for lunch and dinner, and there isn't really anywhere else to eat in this little village.
Ferry to Muhamma: 13 rupees
Bus from Muhamma to Alleppey: I think about 8 rupees
Auto-rickshaw from Muhamma to Alleppey: 250 rupees
Auto-rickshaw to Krishna Temple outside of Alleppey (optional): 450 rupees
Ferry from Alleppey to Kottayam: 18 rupees
Auto-rickshaw from ferry dock back to GK's Riverview Homestay: 250 rupees (we were three people, you might pay less for fewer people)
When have you skipped the 'must-do' in favour of something less touristy and cheaper? Tell me about it in the comments!
Did you enjoy this post about the Kerala Backwaters? Then please Pin it!