I huffed and I puffed, my lungs straining for oxygen that just wasn't there. The top of the hill didn't seem that far away, but every time I looked up it wasn't actually any closer.
I kept going. Huff. Puff. One foot in front of the other, up up and up. A stop now and then to catch my breath.
Then I was nearly there. Nadine was calling down to me from her perch on top of a rock, saying that the view was fantastic. One last bit of adrenaline kicked in and that burst of energy propelled me to the top of the pass.
Laid out before me was a vast grassland, a shallow valley slowly descending to silvery blue Song-Kol lake in the distance, reflecting the snowy mountains that shimmered in the bright sunlight.
Behind me, I could see where we'd come from, the yurt camp that was just above ours now just a tiny white speck far, far below.
No, I had not climbed Everest. Or Kilimanjaro, or any other high mountain. I had simply made it to the top of a 3400 metre pass through the mountains surrounding Song-Kol lake in Kyrgyzstan.
Now, I made that sound impressive, but really, it isn't. Yes, 3400 metres is high but it's not THAT high, and it was a steep climb up, but it was only two and a half hours worth of hiking. It shouldn't have been so difficult.
But this was Monday morning, and I'd only left my home in Oman on Thursday night, from my lovely little house which is just about at sea level. By 10am on Sunday I was at 2000 metres, beginning to climb. Let's just say that zero acclimatization time makes for a rough hike.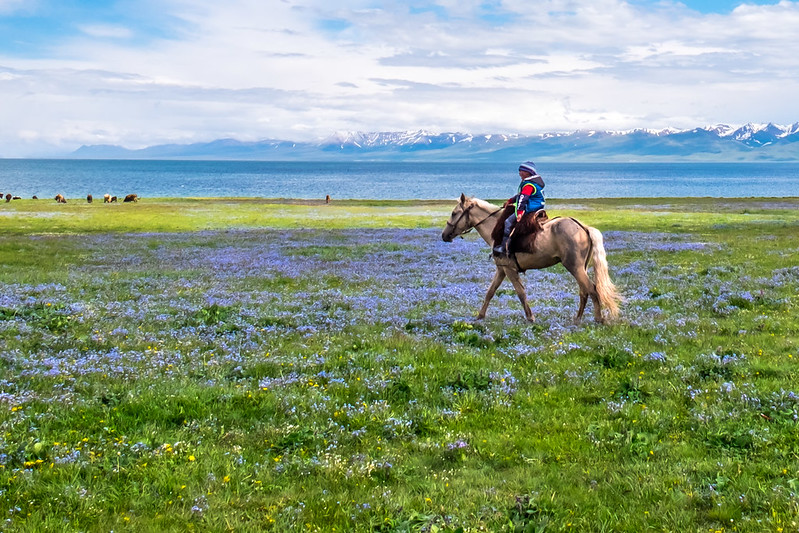 So I was ecstatic to reach the top of that pass and look at that glorious view, knowing that the trek for the rest of the day was either downhill or relatively flat.
The trek to Song-Kol lake was four days. I'd been presented with a multitude of options: a shorter (but not necessarily easier) three-day trek, going by horseback all or only some of the way, or even just a drive in to the lake by car over the dirt road. But horses and I are not the best of friends, and the car option just seemed too…easy. It felt like this lake was a treasure, a reward that I only deserved to see if I put the work in.
So when Zhibek at the CBT office in Kochkor said she had another girl who wanted to do a four-day trek, I said let's go. The four-day trek went in a direction away from the busiest and most touristy yurt camps, and that extra day was simply a three hour walk along relatively flat land next to the lake. I was sold.
Nadine and I were met in the morning by Myrzaiym, our guide for the four days. Our little group of women was rounded out by two 'trainee' guides, Nurai and Anisa, who were along for the first time to learn the way.
We started with a drive, an hour out into the countryside along a potholed road that got worse and worse until eventually the driver turned off it and just drove into the grasslands. He stopped and we got out, Myrzaiym announcing that this spot in the middle of nowhere was where we would begin the trek to Song-Kol lake.
The trek involved hiking over a mountain pass on all but one day, the first a small one of 2600* metres, the next two around 3400 metres each. We went slowly (or at least I did…) up the steep paths, step by step.
We wound around hillsides and up and down valleys; steep narrow ones with rushing rivers and flat wide ones filled with wildflowers.
We walked through marshy areas, trying to find a way through without getting our feet soaked, not always successfully.
We skated across a hillside in orange mud that just would not quit, the kind that sticks to your shoes in huge clumps until they have zero grip left and your feet feel as if you've put on 5kg ankle weights.
We layered on raincoats and warm hats against mist, rain, and hail, and ran for a yurt more than once when the dark clouds and thunder in the distance got close enough to drench us.
We basked in the sunshine amongst the wildflowers next to the lake.
We ate and slept in yurts along the way, with families who have found a way to benefit from the influx of tourists to their grassy summer homes. From June to August, when town is hot, dusty and boring, these people live here as they always have, in the fresh cool air of the mountains, tending herds of cows, sheep, or horses. In September when it gets too cold they go back to their homes in the town.
There were numerous highlights of the trek to Song-Kol lake.
Getting to the top of that pass before the lake was an accomplishment but the stunning view from it and the ensuing walk down through a valley carpeted in wildflowers was even better.
Having a group of only women allowed our first evening to include a long discussion about bride kidnapping, a common practice in Kyrgyzstan. While the girls said it now happens only in more distant and rural regions in the Southwest of the country, it also came to light that of the four Kyrgyz ladies present, three of their mothers had been stolen. And when we asked if their parents' marriages were happy, the answer was 'Yes, of course!'
The fresh bread and jam for every snack and meal. Seriously, the Kyrgyz people make jam as good as my Grandma's, and that's really saying something.
Relaxing near the lake before dinner on our second evening, chatting to our guides and other travellers. It was just so beautiful and so peaceful.
And on the 'short' walking day we had extra time at the yurt camp. The constantly changing weather there meant that the afternoon and evening was filled with rain and hail storms, sunlight and rainbows, making for not just incredible light and shadows for photographs but also time to relax in the sunshine among the wildflowers.
Yes, the trek was difficult at times, but I wasn't the only one struggling. Anisa was not used to hiking so much, particularly uphill, and at one point on a steep slope I turned to her and asked if she was still sure she wanted to be a guide.
No. Not sure at all.
But just like me, she made it to the end, saying that she hadn't even known you could hike to Song-Kul. She'd been before, but by car. I promised her that if she was doing the trek to Song-Kol lake regularly, she'd be as fast and agile as Myrzaiym, who just about ran up the steep hills.
A chorus of laughter burst out behind me as I held my phone up to the open window of the car, snapping a quick photo of the passing mountains.
"She never stops!" the girls squealed, and I grinned as I realized that their laughter was at me.
I'd spent the last four days photographing incessantly, and that wasn't about to stop now just because I was in a moving car. The scenery on this trek to Song-Kol lake was gorgeous, and I couldn't stop capturing it. Now I need to get myself back to Kyrgyzstan to see more!
*Note that there was some discrepancy between elevations that the guide told us, what Nadine's app on her phone said, and what the map in the CBT office in Kochkor said. We may have been as high as 2664 metres to start, and that first pass may have been as high as 3039 metres. I'm just not sure.
Have you done a trek like this? Would you like to go to Kyrgyzstan? Tell me about it in the comments!
If you enjoyed this post, why not pin it?